Diversity in Tech 2020: Promoting Advocacy – Supporting under-represented groups in tech
Computer Weekly and Spinks' annual event dedicated to diversity in technology takes place on 1st October and will be our first year hosting online! Featuring the 50 Most Influential Women in UK Technology awards, the event is the largest free diversity conference in London.
To receive your Zoom link and secure your attendance for the event on the 1st October please register here.
Join our interactive workshops and listen to inspiring keynote speakers on the day of the live event, with the countdown of the Most Influential Women in Tech 2020.
This year, we will be discussing:
Promoting Advocacy: Supporting under-represented groups in tech.
This event is designed to help you develop a more diverse technology workforce.
As this is an online event we plan to run three live workshops in the weeks leading up to the the event – more details to follow!
Attending this event will allow you to:
• Understand the positive changes taking place and learn how to be proactive in developing a diverse workforce
• Hear from our speakers and join in with the Q&A session
• Take part in interactive workshops
We will also announce who has been voted as the Most Influential Woman in UK Technology 2020. Who will succeed last year's winner, Debbie Forster CEO of Tech Talent Charter?
KEYNOTE SPEAKERS:
Dame Stephanie (Steve) Shirley CH, IT entrepreneur and Philanthropist.
Suzanne McGovern, Chief Diversity, Equity & Inclusion Officer at Splunk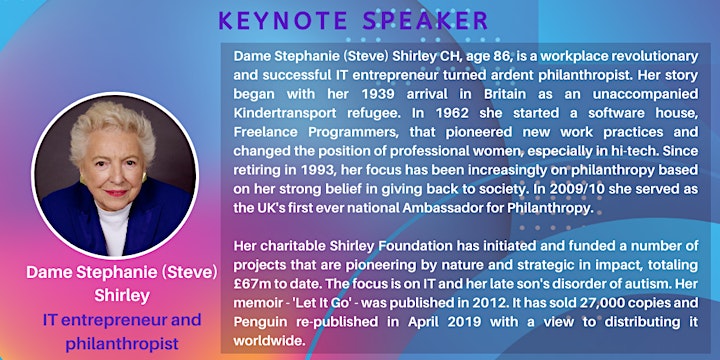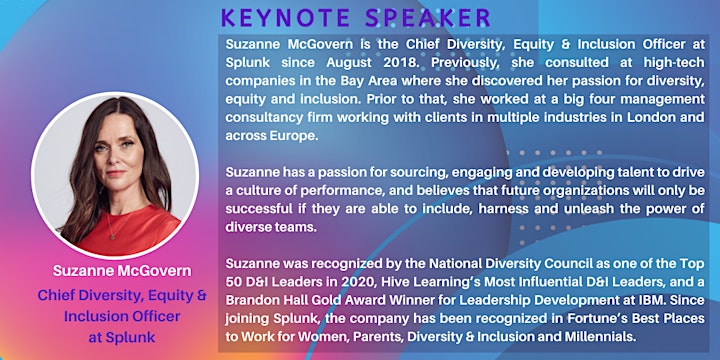 PANEL DISCUSSIONS:
Building a workplace that supports mental health
Maintaining good mental health has been difficult of late, with many feeling heightened anxiety and stress as the coronavirus outbreak threatens jobs and lives. In some cases, especially in the tech sector, it has exacerbated the "always on" culture as technology teams fight to keep companies functioning remotely, and those working from home struggle to maintain a work-life balance. All while trying to stay calm during a global pandemic.
When discussing mental health at work the onus can so often be put on the individual to manage their mental wellbeing, but their workplace can help too. What can organisations and colleagues do to advocate for those struggling with their mental health, and support good mental health practices for their employees, especially during these strange times?
#YouEqualTech: How to be an effective ally for others
Being the only person in a room who looks like you can be exhausting, which is why an inclusive culture is so important to both attract and retain diverse talent and make everyone feel like they can be themselves in the workplace. For those from an underrepresented group, having an ally at work can be the difference between wanting to stay at a company and wanting to leave. So how can we all make sure we are doing our best to support others at work, and be an effective advocate for diversity in the tech industry as a whole?
WORKSHOPS:
This year we will host three workshops online and these will be held in the weeks leading up to the event. Details as follows:
Workshop one: 10th September 2020, from 4.30pm
What is neurodiversity and why should you care about it?
This taster workshop will tell you what neurodiversity is and the strengths and challenges of conditions like autism, ADHD and dyslexia. You will also learn how your entire workplace will benefit from inclusive hiring practices.
******************************************************************************************************
Workshops two and three will be posted soon.
Please note: This event is for tech professionals only and we reserve the right to decline bookings for attendees who do not meet this criteria. Thank you.
Date And Time
Thu, 1 October 2020
13:30 – 17:00 BST
Location